The average net worth of Australian women in the pre-retirement phase (aged 50-64 and still working) has increased by 26.8 per cent in the past 8 years, bringing it closer than ever to that of their male counterparts.
The Roy Morgan 'State of the Nation-Spotlight on Finance Risk' report that was released this week has shown promising signs that women are increasingly becoming self-sufficient in retirement. Despite this, the average net worth of a female pre-retiree is 63 per cent of that of her male counterpart.
Average Net Wealth of Pre-Retirees – Male vs Female
Of the 2.9 million Australian's who are in the pre-retirement phase, 1.4 million are women. With such a large portion of the population approaching retirement or in retirement, the ability of this group to fund their own retirement without relying on the aged pension is increasingly important.
The report found that superannuation made up just over half of the average gross wealth of both male and female pre-retirees, highlighting its important place in the retirement plan of many Australians.
Financial Position of Pre-Retirees – Male vs Female 2016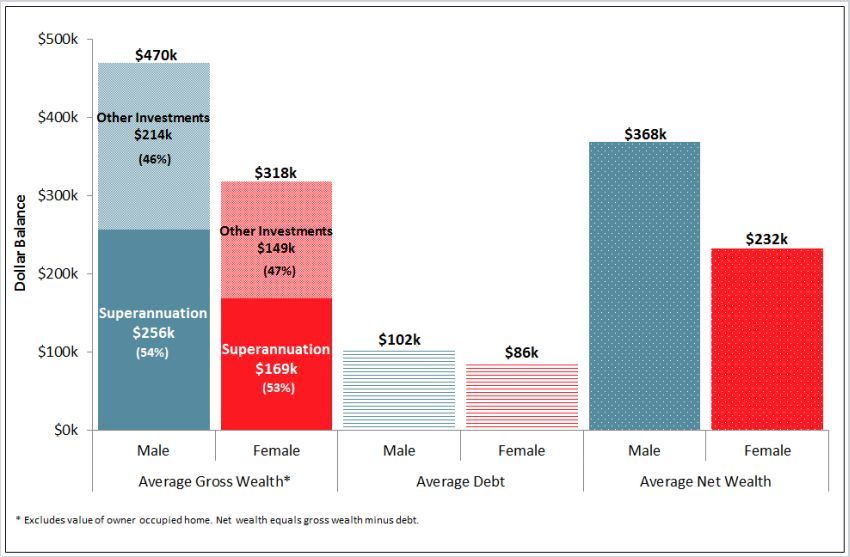 "Over recent years a great deal of publicity has been given to the issue of the inequality in superannuation for women compared to men. Although progress is slow, there are now signs that the gap in retirement funding is gradually closing. This has been partly as a result of increased awareness and effort to improve the retirement funding for women and their increased participation in the workforce," said Norman Morris, Industry Communications Director, Roy Morgan Research.
Morris went on to cite employment as a crucial factor in the increase of women's retirment readiness. 
"Since 2008 the proportion of women employed has increased by 2.1% points, whereas male participation is down by 2.8% points. Given the compulsory nature of superannuation contributions, employment levels obviously play a major role in the level of retirement funding."
Image source: Roy Morgan
Related links